'Back in the day, shopping meant travelling to Dadar'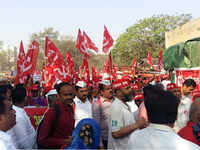 The mid-1990s were momentous for the nation and for the city. India was in the throes of economic liberalization, with all its attendant upheavals; this, too, was when Bombay donned its new avatar of Mumbai. This interval was no less momentous for my neck of the woods in the city—the suburb of Powai—for this is when it started undergoing its own seachange.
Powai until the early 1990s—Bombay's Powai—was little more than a collection of nondescript villages, the dominant presence being the IIT here.
Life was indeed cut-off here, even desolate. Until the mid-90s it wasn't without peril to travel late nights to and from Powai on Adi Shankaracharya Marg (later, widened into JVLR).
To me, living in Powai in the 1990s (and particularly in IIT, which has been my home) was like living in a mofussil outcrop divorced from the city's buzz, a vestigial appendix. True, one could revel in its near-bucolic charms, its lakes and sylvan surrounds, if one was so inclined. On the IIT campus—a perfect hotspot of flora and fauna—this was an especial enchantment to be savoured. However, for any needs beyond the elementary—be it in apparel, or decent dining, or a slice of culture—one had to travel long distances, out to Dadar, Andheri, town. It was easy, then, to feel not just remote from the thrum and throb of Bombay but estranged from it.
Powai's story, in short—as also IIT's—has been a Cinderella story over the past couple of decades. And perhaps the truest measure of its transformation is the cachet that it now carries on one's calling card.
No longer disdained as an address tag, one that the denizens of Bombay's Powai felt apologetic about, your present-day suburb, Mumbai's Powai, is sought after, even arrogated: witness the fact that enterprises over in Chandivli, even in Ghatkopar, now have their addresses bottom-lined "Powai" or "near Powai", seeking to bask in its reflected glory. Thus affording those of us who have lived here a while, their long-awaited moment in the sun.
(The author is a professor at IIT-B and author of 'Monastery, Sanctuary, Laboratory: 50 Years of IIT-Bombay')
["source=timesofindia.indiatimes."]