The Best Natural and Organic Perfumes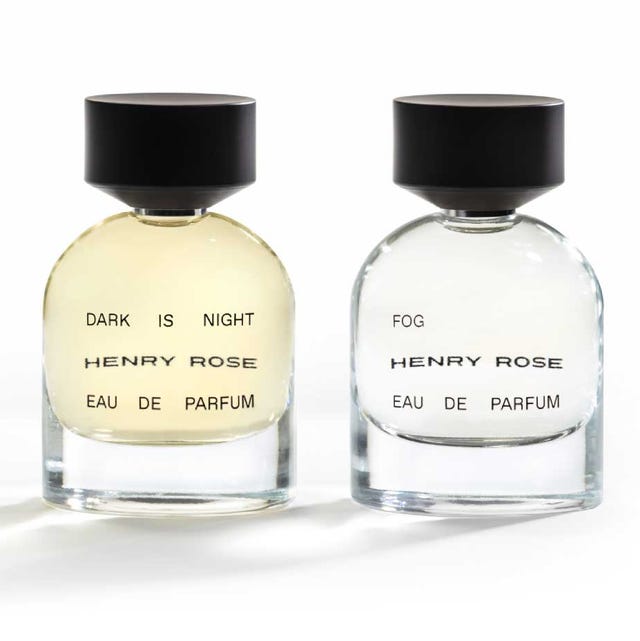 Turn over any bottle in your bathroom and look for the word fragrance or perfume. We guarantee you will find it on every single ingredient list of every single product you use: Fragrance is ubiquitous in personal care products. Why? Because consumers want their products to smell nice. The problem? Companies have no legal obligation to disclose what their fragrance is made from, because it's considered proprietary.
Of the possible 2,947 ingredients listed by the International Fragrance Association (IFRA), fragrance mixtures typically contain several hundred chemicals, most of them synthetic, which, according to a 2018 study, emit the same amount of chemical vapors as petroleum emissions from cars. These vapors—also known as volatile organic compounds (VOCs)—react with proteins in our body that can result in immune responses (including breathing problems, migraine headaches, skin irritation, and asthma attacks). Over time, this can lead to compounding long-term health effects.
A 2015 study that tested 37 fragranced consumer products found that 42 of the VOCs they emitted were classified as toxic or hazardous under U.S. federal laws. Some of the most concerning ingredients found under the fragrance label (or a related term such as perfume), include phthalates (hormone disruptors linked to reproductive birth defects in baby boys), as well as octoxynols and nonoxynols (also persistent hormone disruptors).
As for natural fragrances: Quality, plant-based essential oils used as fragrance can be extremely beneficial for your skin, but they can also be irritants—and therefore considered toxic—at certain levels. How the essential oil is processed also matters. Retailers like Follain and Credo monitor the levels and quality of essential oils in the beauty products they stock to ensure safety, but it is important for consumers to know the risks when buying direct from independent or conventional essential oil brands.
For instance, a 2018 study found potentially hazardous chemicals in 24 commercial essential oils tested. Even though the essential oils were labeled "natural," "organic," or "pure," they were extracted, diluted, or synthesized with petrochemicals which can either be absorbed into your skin, or inhaled.
Our advice: Contact your favorite beauty brands and ask to see a list of ingredients used in their fragrance, along with the sourcing process of any essential oils. Are they organic, and were they farmed responsibly? Cross reference each ingredient with a third party like the Environmental Working Group. Or go even further and ask your favorite brands to change their labeling so that they include all of their fragrance ingredients on their packaging going forward.
In the meantime, get to know 19 of our editors' favorite phthalate-free fragrances below. They range from 100 percent natural and organic, to slightly cleaner than you have now, plus some picks that are breaking boundaries by providing total fragrance ingredient transparency.
1
Queen Bee by Good Chemistry Eau de Parfum
Good Chemistry
target.com
$24.99
Good Chemistry is the cleanest line of fragrances you'll ever find at the drugstore (they're exclusive to Target and free of proplyene glycol, parabens, and phthalates). Queen Bee is a bright floral with notes of black currant, amber, and peony.
Sephora Favorites
sephora.com
$65.00
Not sure where to start? For $65, you get to try seven of Sephora's top non-toxic perfumes so you can commit to a full bottle—which is free with the included voucher—once you've tested each one.
3
Vanilla Woods Eau de Parfum
The 7 Virtues
sephora.com
$29.00
This fragrance is hypoallergenic, made with organic sugar cane alcohol and essential oils, and the company helps provide education and healthcare to a sustainable cooperative in Madagascar. Plus, the bottle is just really, really pretty.
4
100% FRAGRANCE TRANSPARENCY
Fog
Henry Rose
henryrose.com
$120.00
Actress Michelle Pfeiffer is paving the way for non-toxic scents vetted by the Environmental Working Group and the Cradle to Cradle Products Innovation Institute. Her brand, Henry Rose, uses both synthetics and plant-based oils that are considered to be safe compounds for long term use—and for total transparency, each product lists out all ingredients used.
Skylar's fragrances are all clean, non-toxic, cruelty-free, and hypoallergenic. This sample box lets you try all six so you can find your new signature scent (with a $20 credit to make the purchase easier).
Lake & Skye
anthropologie.com
$98.00
This light and airy scent is perfect for those who want to smell clean and fresh—not perfume-y. It's the kind of scent you'll want to spray on your skin, clothes, furniture—everywhere.
Kai
anthropologie.com
$50.00
After just one whiff you'll wonder why it took you so long to find this clean and floral perfume oil. Stash it in your bag to reapply when you feel like you want a boost.
8
100% FRAGRANCE TRANSPARENCY
Dirty Jasmine Eau de Parfum
Heretic
credobeauty.com
$65.00
Heretic's Dirty Jasmine contains 100% natural essential oils and/or naturally derived materials—with full ingredient and fragrance transparency for anyone to see.
9
No.04 Bois de Balincourt Perfume Oil
Maison Louis Marie
sephora.com
$57.00
Fans of this oil claim it's a non-toxic and clean dupe of a famous numerically-named perfume all your coolest friends probably wear.
10
Fragrance 03 Blonde: Black Violet/Saffron
DedCool
credobeauty.com
$80.00
This is the kind of fragrance that smells just as good on you as it does on the person next to you. It's gender-neutral and soft with notes of black violet, saffron, and rose.
11
100% FRAGRANCE TRANSPARENCY
Red Santal
Sophisticated and sultry, this is the fragrance to wear if you're sick of classic florals and you're looking for something a little edgier (clove, pepper, bergamot, santal).
Pacifica
target.com
$17.69
If you're vanilla-obsessed (we know a lot of you are), give this perfume from natural drugstore brand Pacifica a try. It's made using natural grain corn-based alcohol and without phthalates.
PHLUR
credobeauty.com
$18.00
Phlur's fragrances are all free of BHT, phenoxyethanol, parabens, phthalates, and polycylic and alicyclic musks and the packaging is recyclable, sustainable, and/or resuable. This sample set lets you try three of the brand's best-selling scents: hanami, sandara, and olmstead & vaux.
Pour le Monde
credobeauty.com
$49.00
If you're obsessed with all things citrus, this is the scent for you. It's fresh and sporty and so easy-to-wear, thanks to essential oil blend of lemon, lime, bergamot, grapefruit, orange, and mandarin.
15
Chronicle Fragrance Discovery Set
Ellis Brooklyn
credobeauty.com
$22.00
Ellis Brooklyn makes non-toxic fragrances so good you'll question their ingredients (don't worry, they're vetted by Credo Beauty's standards). This set lets you try all seven scents before committing to a full bottle.
16
Inner Space Chakra Perfume Oil Crown
Nanaka
anthropologie.com
$20.00
All of Nanaka's fragrances are vegan, cruelty-free, paraben-free, phthalate-free, and 100% natural. The crown scent is made with amber & frankincense.
Osmia Organics
thedetoxmarket.com
$75.00
This perfume oil was originally formulated to be a confidence-boosting aromatherapy oil. A mix of citrus essential oils, Bulgarian rose, violet leaf, and frankincense smells incredible but wears off in a few hours—so bring the rollerball with you to reapply.
18
Los Feliz Eau de Parfum
Los Feliz Botanicals
thedetoxmarket.com
$50.00
This fragrance  is made with organic corn alcohol and an all-natural essential oil blend. It's meant to evoke the jasmine and magnolia tree-lined streets of Los Feliz with a  hint of sweet honey.
A base of custom-distilled esprit de Cognac alcohol from non-GMO, pesticide-free grapes are blended with ethically sourced essential oils like rose and sandalwood to create this fragrance. All that's to say it's a long-wearing and non-toxic delicious rose perfume.
Lina Hanson
thedetoxmarket.com
$90.00
Yuzu, ginger, and sandalwood give this perfume oil an Earthy—almost spicy—quality. The rollerball makes it easy to carry with you and reapply throughout the day.
MCMC
credobeauty.com
$71.25
The blend of red thyme, myrtle, lavender, lemon, and bitter orange essential oils with a tiny bit of synthetic fragrance makes this gender-neutral, garden-inspired fragrance not only easy to wear but long-wearing as well.
["source=harpersbazaar"]