Floral Perfumes to Spritz This Fall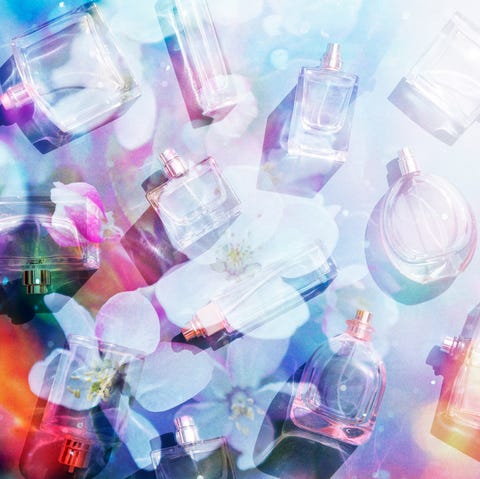 Smelling like flowers hasn't always been cool. Some garden-variety perfumes, like traditional rose blends or heady white florals, have a reputation for being old-fashioned, even fussy. Scents like sage, patchouli, oud, and smoke are much more fashionable. Or they were. But this fall, the classics are having a resurgence. As perfume creator Frédéric Malle puts it, "These days, cool girls want the heritage thing." And in perfumery, the "heritage thing" is flowers.
The popularity of different blooms may wax and wane, but building blocks like rose, jasmine, and tuberose are always there, so anyone who thinks she doesn't like florals needs to check her preconceptions. With perfume, you simply can't make blanket judgments based on one or two things you've smelled, explains Adriana Medina-Baez, a perfumer at Givaudan and one of the cocreators of Lancôme's new scent, Idôle. "Florals are in most fragrances. You just have to find one that speaks to you and you feel comfortable wearing," she says. "Maybe you think you don't like tuberose because you smelled it in Fracas years ago, but you try Gucci Bloom and you end up liking the note because it was done differently."
No one understands this better than Michelle Feeney, who launched the fragrance line Floral Street in London in 2017 and brought it to the States this year. "When we opened our Covent Garden store, I was surprised how many consumers had preconceived ideas and would say, 'I don't like florals,'" Feeney says. She wants to prove that type of petal hater wrong: "Our perfumes aren't like perfectly arranged bouquets. They're like bunches of flowers wrapped in paper and tied with string. They're less formal, more modern."
Jérôme Epinette, the perfumer who created all the fragrances in Feeney's line, says one way he creates a 21st-century floral is by avoiding a "straight interpretation" of the flower, instead combining it with surprising notes, such as woods. "It's less literal," he explains.
And it's not just the way the notes are combined that makes them modern; it's also how the aromas are extracted and how they're replicated in the lab. Take jasmine. Back in the day, the scent most people associated with the tiny white blooms was actually jasmine absolute, a natural oil extracted from the petals with the help of solvents. "It's dark, thick, viscous, and incredibly intense. It's very sensual," says perfumer David Apel, who works for the fragrance house Symrise. But the modern take on jasmine, a synthetic note isolated from the flower's aroma, is much lighter. "It's a transparent, fresh floral somewhere between jasmine and tea. It's basically in everything these days—men's and women's fragrances—because it's so easy to appreciate. It brings a naturality that's very modern."
Even rose, that grandmotherly standby, has gotten a makeover. "The technical process of extraction has evolved over the years," says Epinette. "We still have steam distillation for rose essential oil—and the extraction by solvent for the absolute—but now you also have molecular distillation and friction distillation, processes that give the perfumer a more customized rose with new nuances." In short: A rose isn't a rose isn't a rose.
And, sure, this guide is grouped by flower, but that's just to simplify things. Your best bet? Get to the store and start sniffing.
["source=marieclaire"]